history of First Presbyterian Church of Stockton, CA
Founded in the past (March 17, 1850), Rooted in Christ and Looking Forward.
Yes! We are that beautiful church on Vine and El Dorado. We have been worshipping in our present building since it's dedication to God in 1923. But, even though people notice our building, it's really the people that makes First Presbyterian special. Just like the church rhyme; "Here's the church, and here's the steeple, open the door and see all the people". First Presbyterian is a loving and caring family, committed to worshipping God for over 170 years. Over the years, the people of First Presbyterian have made an impact on our community by helping to establish other churches and striving to find solutions to assist all of God's people.
Founded in 1850
Over 170 years ago on March 17, 1850, eight men and one woman banded together under the leadership of the Reverend James Woods to form the First Presbyterian Church of Stockton, California. One hundred seventy years ago Californians were living in the glamorous gold-rush days when the eyes of the world were focused on this region. People from all over the world were coming to California because of "gold fever".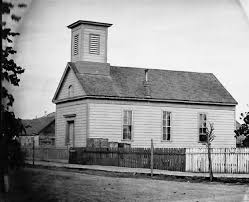 In the midst of all the rough and rowdy element, there existed a cultured and godly group who were eager to establish here the institutions of a Christian civilization. So they laid well the foundation of enduring institiutions of which First Presbyterian Church is one.
The First Pr
esbyterian Church of Stockton is one of the oldest continuing organizations in the City of Stockton. In fact it is older than the City of Stockton which was incorporated on July 23, 1850; older than the County of San Joaquin was organized on April 3, 1850; and the State of the California which became a state of the union on September 9, 1850.
The First Presbyterian Church was the first Presbyterian church built in California and the second on the Pacific Coast. The First Presbyterian is the second oldest protestant church in Stockton, with the Methodist Church organizing one day earlier on Saturday 16th. The property for the first building was donated by Captain Charles Weber, the founder of Stockton, CA.
Read more about the establishment of First Presbyterian during the gold rush in the writing of Rev. James Woods, "Recollections of Pioneer Work in California".
Article from The Record about the 160th celebration
Current Location at El Dorado and Vine dedicated on March 25, 1923
Additional information about the History of the Presbyterian Denomination.